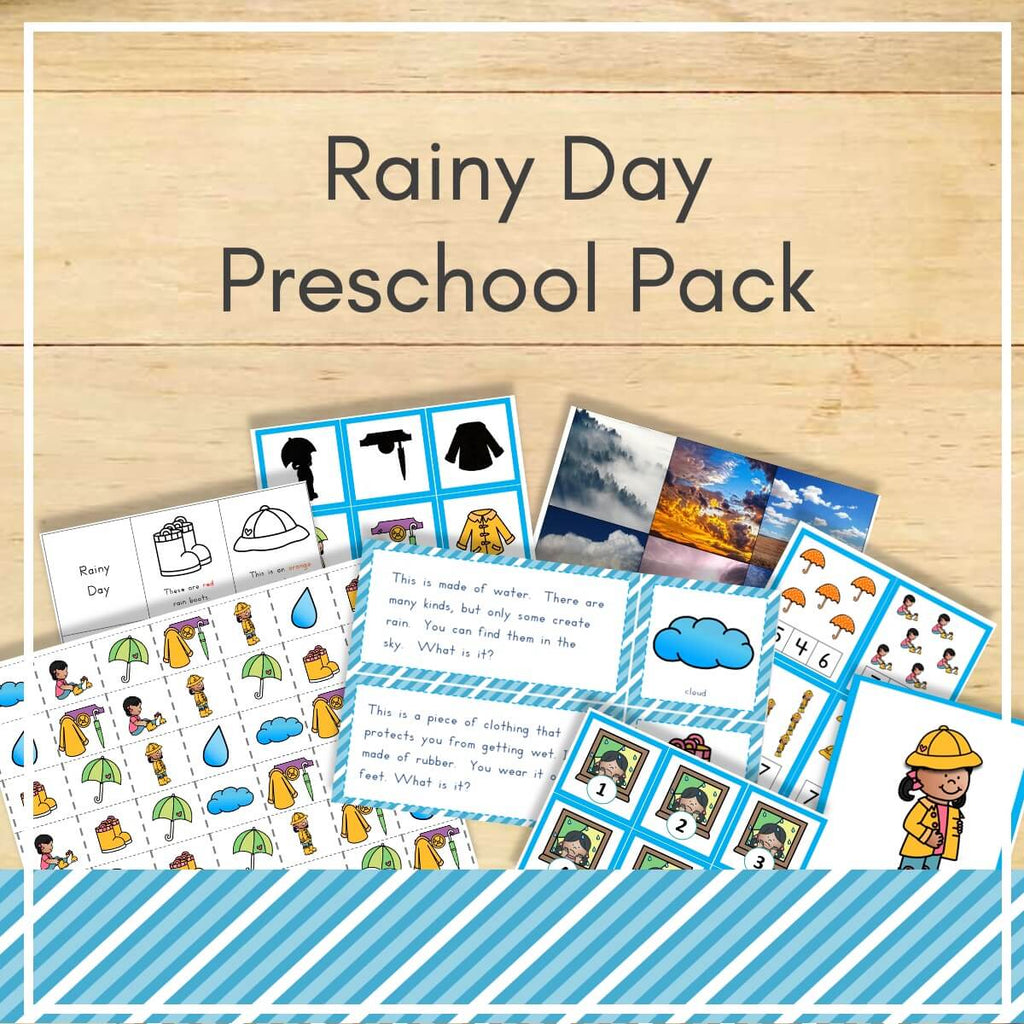 Trillium Montessori
Rainy Day Preschool Pack
Rainy Day Preschool Pack
This set is suitable as a supplement to your Weather unit.

Contents: 

1. Sort by Color: Use these cards to sort by color. The 3 primary and 3 secondary colors are used. Includes color word cards, color and blackline printing options, and two blackline emergent reader booklets. 

2. Sort by Size: Sort Big/Large, Medium, Small/Little. Labels are included.

3. The Question Game: This is a great oral language development activity. Children use inferencing skills to determine the item based on clues.

4. Following Directions: This is another great activity for early oral language development. Children have to follow a sequence of simple directions. Three difficulty levels are included: 1-step, 2-step, and 3-step directions.

5. Shadow Matching: Add this to your picture matching shelf. Match a picture to its shadow.

6. Categories: Sort photographs into the appropriate categories.

7. Prepositions Game:Use these cards to learn about positional words like above, below, beside, on, behind, in front of.

8. Cutting Exercise: A few different difficulty levels of scissor cutting exercises are included: Beginner, cutting straight lines, cutting wavy lines, cutting zigzags and cutting 90 degree corners.

9. 0-10 Number Cards: Use these number cards for a variety of activities to practice Numbers 0-10. Blank cards are also included if you would like to add additional numbers (this is a great option if you want to use these as calendar cards.)

10. Number Clip Cards: Number clip cards are another fun way to practice numbers 0-10. Count the pictures on the card and clip the correct number with a clothespin.

Relevant Products:
Rainy Day Phonological Awareness
Download Information
This product is a digital download. You will receive the file in PDF form.  The download link will be sent to your email address instantly after payment has been processed - please check your Spam Folder for your "Download Products Notice" email if you don't see it in your inbox. To use this product, you will need to download it to your computer and print it.  Nothing will be sent to you in the mail.
What's the difference between a "Single User" and "School" License?
The products are identical.  If you would like to use the product in multiple classrooms within ONE SCHOOL LOCATION, please purchase the school license. Additional school licenses should be purchased for each location. The Single User license allows you to print multiple copies for use within ONE CLASSROOM or home.  Files or copies may not be distributed to other classrooms, colleagues, or friends.  Files may never be posted in a shared drive or online where they can be accessed by others.
---
More from this collection