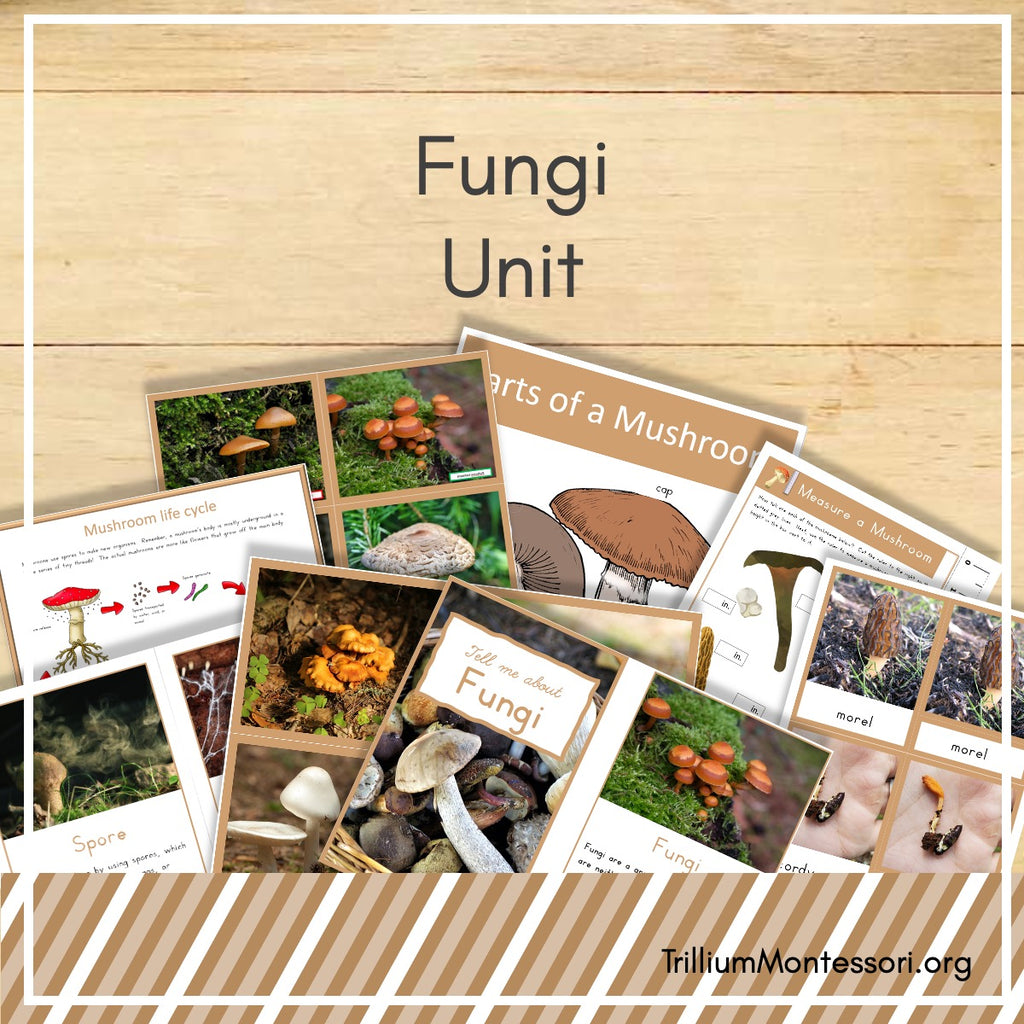 Trillium Montessori
Fungi Mini Unit
Fungi Mini Unit
This set is suitable for ages 4-9. Please download the preview to get a closer look at the activities included.


Contents:

1. Fungi Non-Fiction Book: Features real photos and informational text.
2. Fungi Mini Book: A black and white clipart version of the non-fiction book. This can be used by students to make their own booklets.
3. Mushroom Information Cards: 16 simple fact cards about mushrooms from around the world.
4. Research of a Mushroom: Printable graphic organizers to introduce the idea of research and reports to young children.
5. Matching Mushroom Cards: Real images of similar looking mushrooms…one is edible and one is poisonous.
6. Yeast Science: A fun and engaging activity that demonstrates the properties of yeast.
7. Fungi Writing/Conversation Prompts
8. Mushroom Spore Print Lesson Plan: This science experiment is also art! An activity for a closer look at the tiny spore in every mushroom.
9. Mushroom 3-Part Cards: Real photographs of 18 different types of mushrooms.
10. Measure A Mushroom 3-Part Cards: Measure and match a variety of mushrooms. A printable worksheet is also included.
11. Mushroom Life Cycle Sequence Cards
12. Parts of a Mushroom 5-Part Cards: Includes a diagram of the parts of a mushroom in both color and blackline.
13. Mushroom Hunt! Game: A simple cooperative board game that can be played with 2-3 children. Directions for play are included.
Related Products:
Download Information
This product is a digital download. You will receive the file in PDF form.  The download link will be sent to your email address instantly after payment has been processed - please check your Spam Folder for your "Download Products Notice" email if you don't see it in your inbox. To use this product, you will need to download it to your computer and print it.  Nothing will be sent to you in the mail.
What's the difference between a "Single User" and "School" License?
The products are identical.  If you would like to use the product in multiple classrooms within ONE SCHOOL LOCATION, please purchase the school license. Additional school licenses should be purchased for each location. The Single User license allows you to print multiple copies for use within ONE CLASSROOM or home.  Files or copies may not be distributed to other classrooms, colleagues, or friends.  Files may never be posted in a shared drive or online where they can be accessed by others.
---
More from this collection