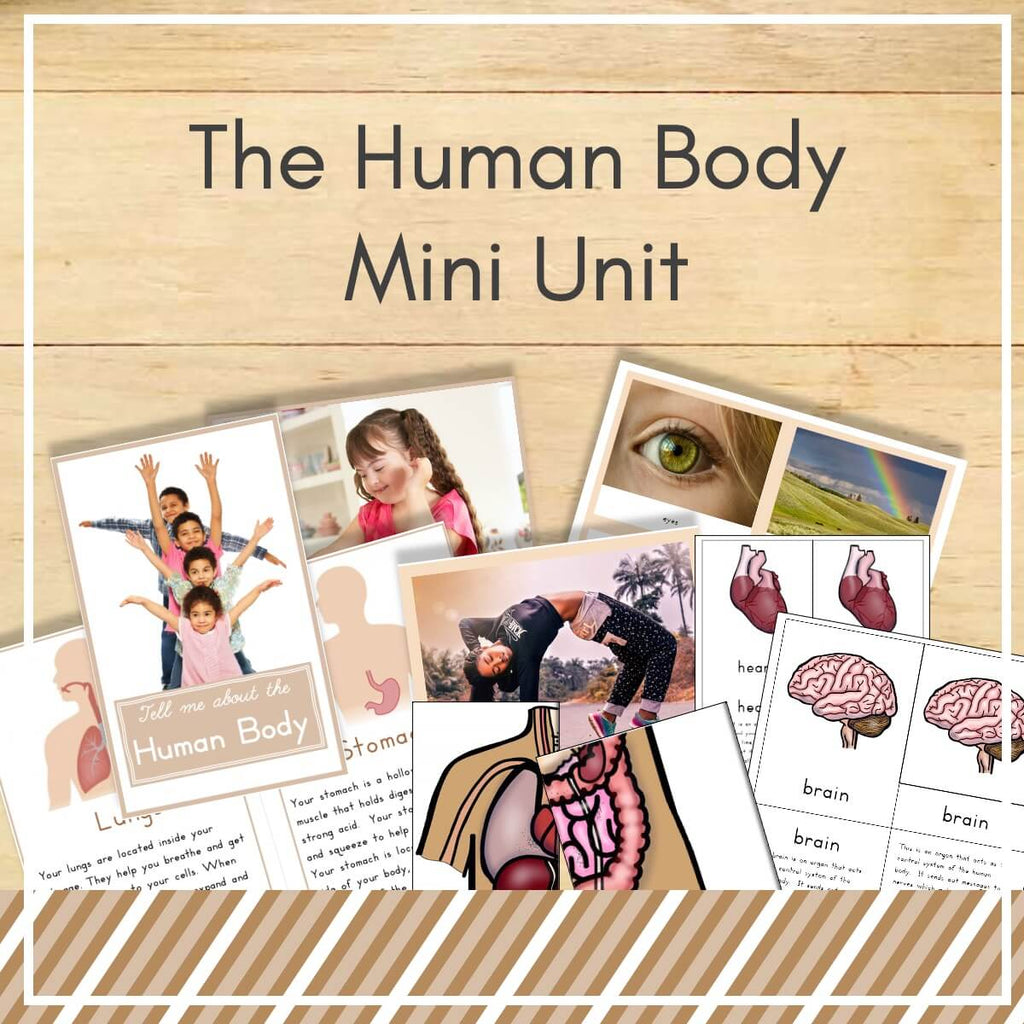 Trillium Montessori
Human Body Mini Unit
Human Body Mini Unit

This set is suitable for ages 4-9. Please download the preview to get a closer look at the activities included.


Contents:

1. Human Body Non-Fiction Book: Features real photos and informational text about the human body. Terms in the book include human, skin, lungs, stomach, bones, blood, brain, muscles, and senses.
2. Human Body Mini Book: A black and white clipart version of the non-fiction book. This can be used by students to make their own booklets.
3. Writing/Conversation Prompts: Encourage creativity and reflective thinking with these cards featuring pictures and thought-provoking questions.
4. Color Match and Grade: Color block cards for exploring various skin tones.
5. Matching Pictures: Real photographs of some amazing things the human body can do!
6. Action Commands: Get moving with these body part action cards! Each command card has a photo prompt and a short action to perform.
7. 5 Senses Matching Cards: Match photos and descriptions to learn about the senses of touch, taste, smell, hearing, and sight.
8. Body Parts Bingo Game
9. Skeleton Floor Puzzle: Learn about the human skeleton with this printable floor puzzle. Includes control chart which can also be used as a smaller puzzle.
10. Internal Organs 5-Part Cards
11. Life Size Organ Map: A fun life-sized activity to learn about the human body! Use this as a puzzle, or make a paper apron to "wear" with the completed organ map.
Related Products:
Download Information
This product is a digital download. You will receive the file in PDF form.  The download link will be sent to your email address instantly after payment has been processed - please check your Spam Folder for your "Download Products Notice" email if you don't see it in your inbox. To use this product, you will need to download it to your computer and print it.  Nothing will be sent to you in the mail.
What's the difference between a "Single User" and "School" License?
The products are identical.  If you would like to use the product in multiple classrooms within ONE SCHOOL LOCATION, please purchase the school license. Additional school licenses should be purchased for each location. The Single User license allows you to print multiple copies for use within ONE CLASSROOM or home.  Files or copies may not be distributed to other classrooms, colleagues, or friends.  Files may never be posted in a shared drive or online where they can be accessed by others.
---
More from this collection